Also known as the Honeywell Enviracaire 50250S True HEPA Allergen Remover, the Honeywell True HEPA 50250S is the higher-end cousin of the bestselling Honeywell HEPA Clean HHT-011. It is capable of removing most of the common air pollutants and is very reasonably priced. At 18" by 19" by 19", it weighs only 21 pounds and is less portable / intended to be placed in a large room or living room. Final score from our Honeywell True HEPA 50250S Review: 96/100.
Honeywell True HEPA 50250S Pictures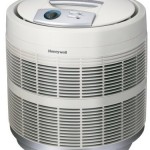 Key Pros
Allergen Removal – the air purifier can remove smoke, pollen, dust, pet dander, mold spores, germs, bacteria, odors and VOCs or volatile organic compounds.
Best in class CADR rating – with a Clean Air Delivery Rate of 250 for smoke, pollen and dust, this air purifier is best in class and can be relied on the clean out your living environment
360 degree air intake – this patented design allows the air purifier to clean out air in all directions, ensuring that there are no blind spots
Inexpensive – this is a very affordable top-line air purifier
5-Year Limited Warranty – generous and sufficient for most people
Key Cons
Noise especially at higher speeds – expect some noise when operating at high speeds. However, this should not be an issue once air quality has stabilized (eg. after windows have been closed for a while)
Filter replacement – as with most air purifiers, expect to have to replace your air filters at least once a year
Honeywell True HEPA 50250S: Check Price on Amazon
Coverage
With a coverage area of 390 square feet, this air purifier can be used in most types of rooms. However, note that it is intended to be placed at least 3 feet away from the wall, so it can be an eyesore / inconvenient when you have limited space.
Air Changes Per Hour (ACH Rating)
The Honeywell True HEPA 50250S changes the air in its surroundings five times an hour, similar to that achieved by other top air purifiers.
Clean Air Delivery Rate (CADR Rating)
CADR ratings for the Honeywell True HEPA 50250S of 250 / 250 / 250 for dust, smoke and pollen are impressive. It also has a carbon activated pre-filter that removes odors from cigaratte smoke, etc. from the surroundings effectively.
Energy Usage
Equivalent to turning on two light bulbs, average energy usage of 120 Watts is slightly above average but manageable.
Warranty
Generous 5-year warranty ensures that you are well covered in the event of any defects.
Price
The Honeywell True HEPA 50250S is excellent value and one of the highest quality air purifiers you will find at this price.
Honeywell True HEPA 50250S: Check Price on Amazon